Original Homepage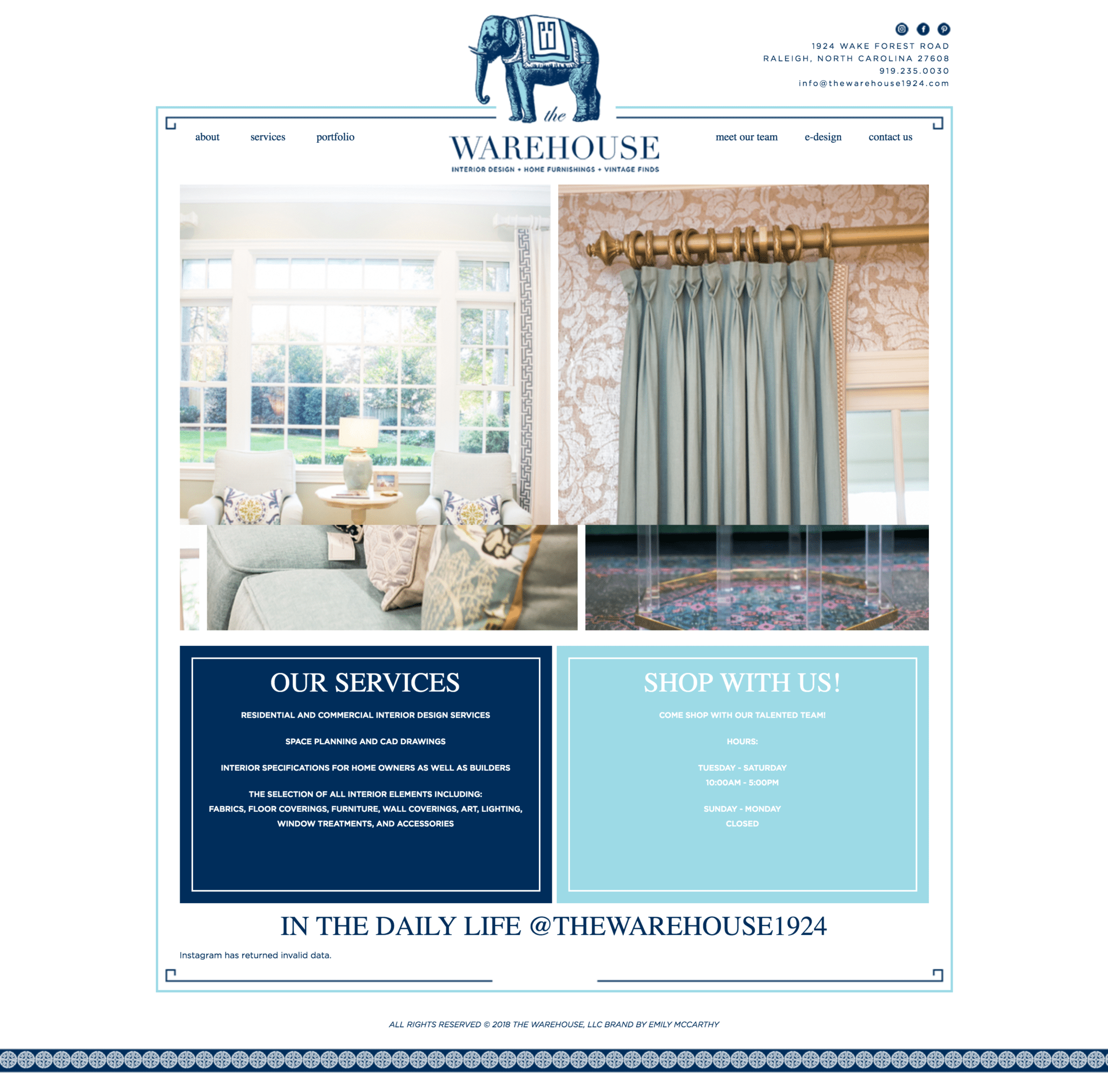 The Problem
Visitors are not finding the information they need on a homepage with no visual hierarchy. Plus, the theme is not responsive.
Problem Details
The slideshow is too busy and does not feature the best work from The Warehouse 1924's portfolio.
The retail space's address and business hours are important, but not prominent in the design.
There is not enough text information to orient site visitors, or to be noticed by search engines.
An exclusive partnership with a sought-after brand of products is not mentioned.
The personality and design aesthetic of The Warehouse 1924 is not evident.
The site is not responsive, but instead uses two separate themes to allow for mobile and desktop accessibility.
The footer is underutilized and does not feature any information important to site visitors.
Updated Homepage

The Solution
The homepage was redesigned to prioritize information that is important to site visitors. A single responsive theme provides better accessibility and ease of maintenance.
View Fullscreen
Solution Details
Creating a visual hierarchy now leads visitors to the information they need in order to shop with The Warehouse 1924.
A new complimentary logo was created to announce their exclusive partnership with the Raleigh Designer Resource.
The navigation was updated to all caps for enhanced visibility and to better tie in with the identity of The Warehouse 1924. The footer was expanded to duplicate contact info and navigation.
Portfolio images are integrated into the design, allowing the banner slideshow to be simplified and visually more impactful.
New calls to action lead visitors deeper into areas of interest, making information easier to find.
The theme was rewritten as responsive to allow for better accessibility across devices and screen resolutions, and easier maintainability of the site.
New content describing The Warehouse 1924 was added to help visitors orient themselves on the site. This has the additional side benefit of naturally enhancing search engine readability of the page.