Owning a website is like owning any other tool for your business—it's only as good as the use it is being put to.
Many times business owners feel simply having a website is enough to increase visibility and boost sales. While that may be true at the most basic level, a thriving website provides much more opportunity for overall business growth.
What is often overlooked are the needs that website has in order to thrive, and how to identify them. Let's start by naming the needs of your site.
There are 3 common things that every site needs in order to provide value to a business:
Before we begin…
Installing Google Analytics on your website (either directly or via Google Tag Manager) will allow you to start tracking visitors. Today, I will direct you to the standard reports that are helpful in determining if your site's needs are being met.
There are other tracking options out there however, for the purposes of this guide we will stick with Google Analytics.
How often should you measure statistics?
It is easy to become overly concerned with your site's user statistics. The goal is to view overall trends of the site and not become too worried with day-to-day shifts. Typically, pulling reports from Google Analytics should be done approximately 1 month after any major changes or launches, and every 3-6 months after that.
Let's begin!
Visitors who are interested in your product or service.
Having your website receive traffic is great. Having your website receive traffic that leads to eventual sales is even better. How can you tell the difference?
The best way to start is by getting to know your existing customers.
If you are yet to launch your business, create a demographic profile of your ideal customer. Get to know them as personally as possible.
If you have existing customers, reach out to them via a customer survey. Get to know how they spend their time online and how they describe your business.
What you need to know:
What social media platforms do they use?
Before you can start tracking the platforms that lead visitors to your site, you want to know if they are the same ones your customers are on.
How do you customers describe what you do?
Asking existing customers to describe your product or service is valuable when comparing the keywords and phrases used by search engines to find your site.
Are they local?
If your business has any geographic limitations, you will want to know if your site's visitors are coming from that same region.
Bonus: What devices do they use?
Knowing this information as early as possible helps your development team test your site in the ways it will be interacted with the most.
Put your content where your customers are.
You now know (or have made a best initial guess) where your customers spend their time online, what words they use to describe your business, and where they live.
You can now:
Create a social media account on your customers' favorite platform.
This will be used to make announcements and provide updates to attract new and lead returning visitors back to your site.
Include language your customers actually use to describe your business in your content.
The words and phrases your customers use are the same ones they will search for on Google.
Know to include geography-specific language on your site, or not.
If your business is limited to a geographic region, specifying that on your website will help eliminate visits by people who will not purchase your product or service because they are out of range.
Are your visitors like your customers?
In Google Analytics, here is where you can view the results of the work done to attract the right visitors to your site:
Assessing—are your goals being met?
These reports show you if the visitors on your site live in the same areas and find your site in the same ways as your existing customers. While this doesn't necessarily mean that all will become customers, but are a good indication that your content is getting in front of the right audience.
Next, we will look at how to make sure your visitors are not being hindered by technology.
Compatibility with your visitors' devices.
Have you ever visited a site that was easy to use on your laptop, but a nightmare on your iPhone? Knowing what devices your visitors are actually using allow you to take a look at what they see and experience.
Find out which devices are universally popular and use that as a starting point.
Most developers have a standard suite of devices, operating systems and browsers that they test new sites on prior to launch. These are typically the current versions of all major browsers, and should include major Windows, Mac, Android and Apple devices and operating systems.
Beyond that, there are online tests that analyze your site's performance—both for mobile devices and for any device.
Use your site on as many devices you can.
Testing out your site on the devices requires having the actual devices, virtual machines, or using an online service that provides access or screenshots. Actual devices are best, so you can interact with your site. Fill out forms, click buttons, expand and contract your browser window—in other words, do everything you can think of to interact with the site in different ways.
If you are working with a developer, this is a standard part of any development or maintenance update process. Ask your developer what devices they are testing on, and what methods they are using to do the testing.
What technology do your visitors use?
Once your site has launched, you can get a reasonable idea of what devices and browsers your visitors are using by digging in to couple reports in Google Analytics.
Things to look for in these reports:
Popular devices and browsers.
This will help you narrow down which browsers and devices are critical to best serve your visitors.
Device types with high or low usage.
Are most of your visitors on mobile vs. desktop? Do tablets factor in to your site's overall traffic? Knowing this helps prioritize what your website should be optimized for.
Bounce rates.
Devices and browsers with higher-than-average bounce rates may indicate an issue that keep visitors from completing conversions.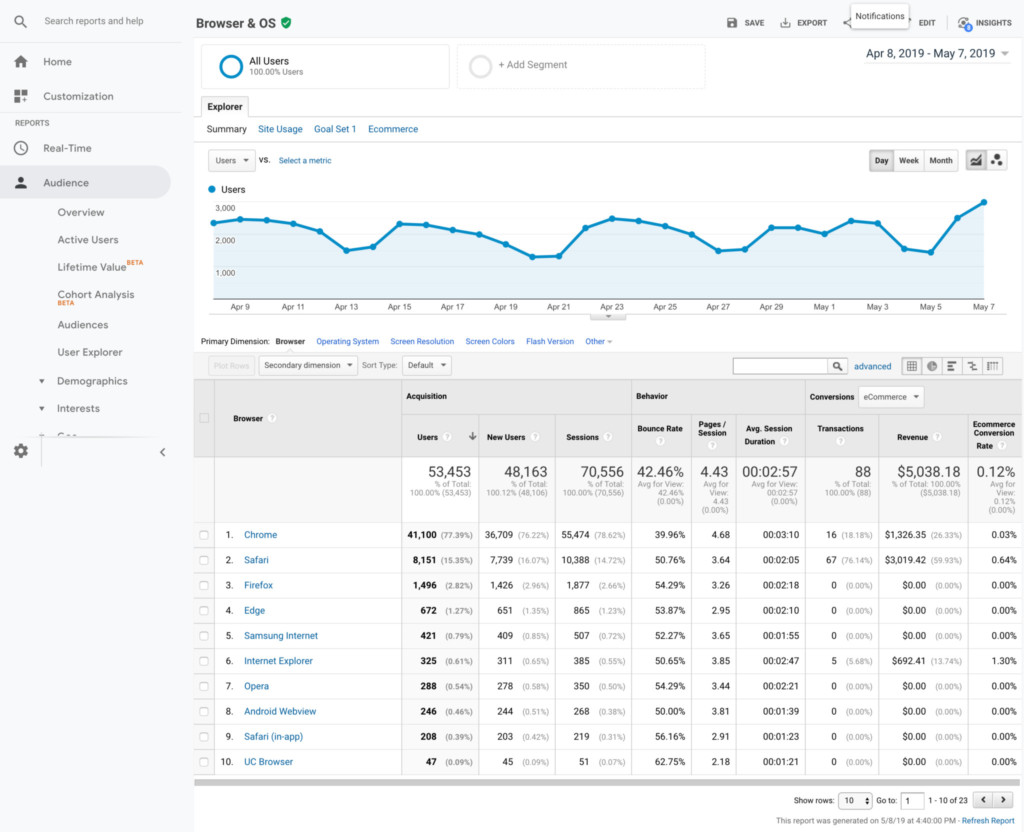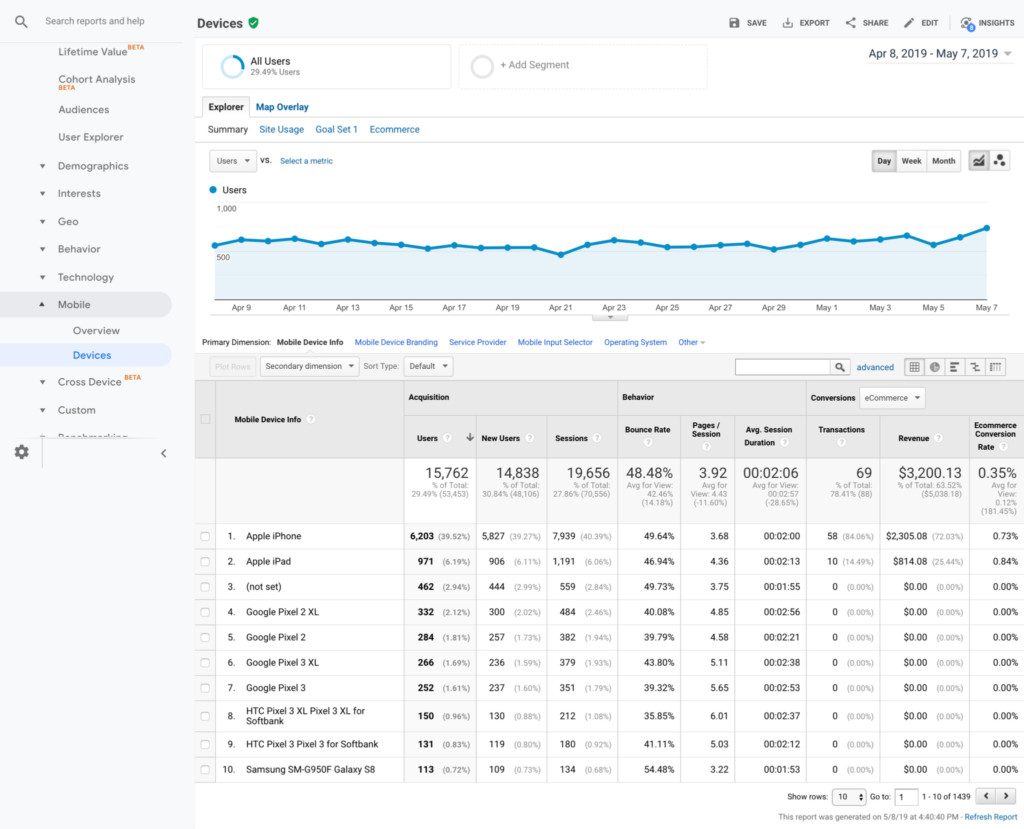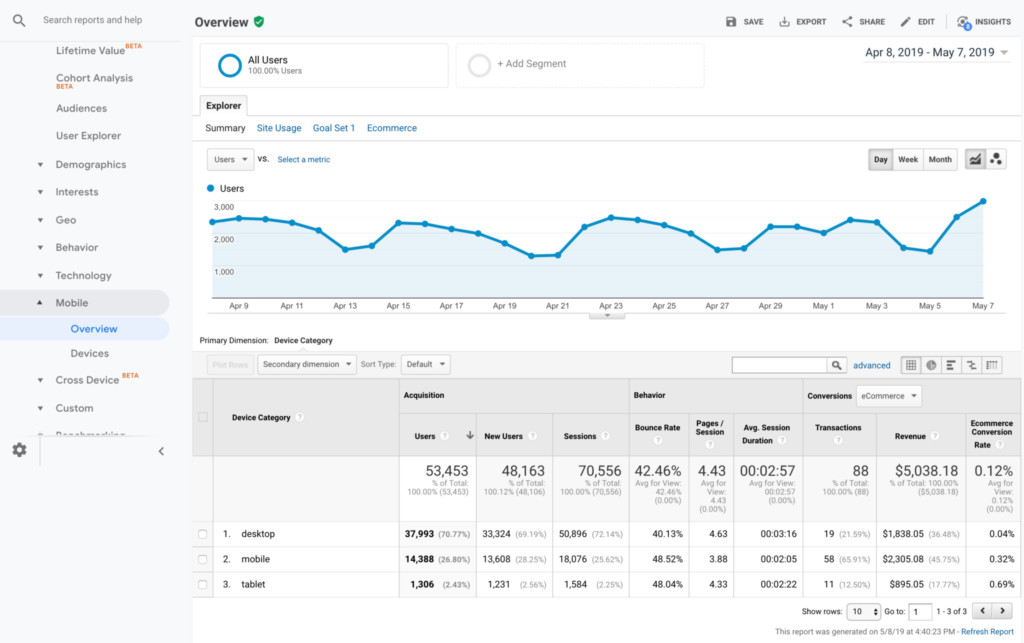 Assessing—are your goals being met?
These three reports will give you a good understanding of what technology the majority of your site's visitors are using, but this information will be surface deep. An excellent guide has been written and shared on Medium.com that goes into much more detail on how to use custom reports and spreadsheets to narrow your site's device and browser information into a tangible device testing list.
We now know how your visitors are arriving to the site, and if there is an indication of potential compatibility issues with their devices. These two needs admittedly give us a general idea of site success, but they are still intangible.
Let's now take a look at the most tangible need your site has: Goals.
Actionable steps for visitors to take to convert into prospective or actual customers.
When sitting down with clients to discuss a new website, the most important question I have is: What do they want their visitors to do on their site? Why are they creating the website?
Often, the answer is so that people can find their address or phone number. While this information is important to your business, it's not necessary to create a whole website for this. After all, your address, phone number and business hours are all accessible via Google Maps.
Having your own website is an opportunity to introduce prospective customers to your business' personality and weed out window shoppers from interested buyers. This works best when your site provides actions for visitors to take to declare themselves as interested.
Defining the actions you want visitors to take.
What would identify a website visitor as a prospective customer? The answer may be different depending on your business, but here are some ideas:
Signing up for a newsletter.
Filling out a general contact form.
Viewing your contact page.
Filling out an action-specific form and requesting a callback.
Downloading a resource (ideally providing an email address).
Sharing your content on social media.
Making a purchase.
This list is not exhaustive, but is a good place to start when determining how your visitors can reach out and let you know they are interested in buying from you. The items I've emphasized above are all ones that would give you the additional opportunity to connect with visitors after the fact.
Have your developer set up Event Tracking to capture when visitors complete an action.
Google Analytics—either on its own or in combination with Google Tag Manager—allows you to set up custom Events and Goals in your account. This tells the service to keep track of specific pageviews, clicks, downloads, video views, etc.
Depending on your defined actions, there may be some different steps to take in order to have these tools ready to capture completions. There are many guides online to help set up specific actions in these tools, or your developer will set them up for you.
View the reports to see what actions are being completed.
Once set up, you can use the following reports.
Goals:
Events:
Assessing—are your goals being met?
The first reports are helpful to give you an idea if goals and events are being completed. The second give you a better idea of if there is a common point in the traffic flow that people tend to give up at. Knowing this allows you to focus on what could be improved in that point of the process.
Website ownership is easier when you're in the know.
Hopefully, this guide has provided insight on what your site needs in order to provide value to your business, and how to begin to know if those needs are being met. If you have any questions, feel free to reach out to me directly.
In my next post in the series, we'll talk about your content:
How online content is typically consumed.
Finding content that resonates with your audience.
Compelling visitors to take action.